How to Export Bibliographic Records from Polaris
First, create a record set containing the bibliographic records you want to export. Using the Find tool, you can search for either bibliographic records or item records. Then select the records you want to add to the set using Ctrl key and clicking to select the records.
Image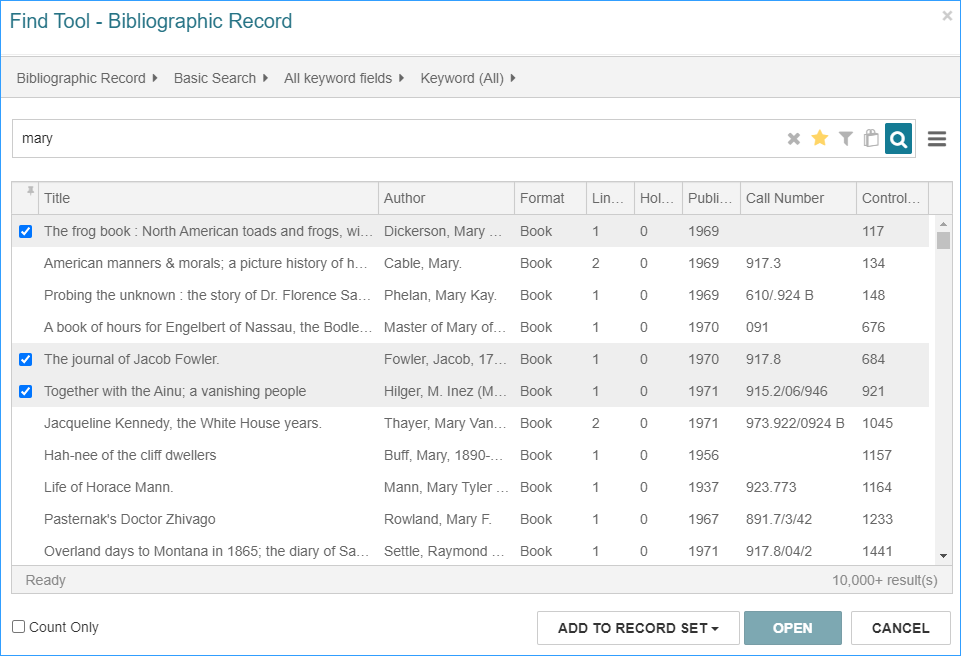 Then click Add to Record Set, select either new for a new set or existing to add to a set that is already created.
If your record set is an item record set, you must change it to a bibliographic record set. Click the Actions menu, and select Create Bibliographic Record Set. Give the set a new name and Save.
Image
Next, go to SimplyReports, and select the Bibs tab.
Image

Select one column for output (MARC title is a good choice because every bib must have a title)
Image

Find "Export Express" in BOLD. Check the MARC file box. You can choose to include holdings info with your export or not. MARC-8 character encoding is the default.
Image

Under Bibliographic record general filters, check the box "Bib record set" and select your record set, and click Submit.
Image

The Report preview appears (it doesn't look like much, just a column of titles.)
Check the "Download report output" box
Click on the Download icon to download the MARC records to your computer
Image