Adding a New Fiscal Year in Polaris Acquisitions
Setting up Fiscal Year records in Polaris. An unlimited number of fiscal years can be created, and an unlimited number of funds and subfunds may be associated with them. Fiscal years may overlap.
To create a new Fiscal Year record, from the toolbar click on File | New, click on the new icon or use the hot-key Ctrl+N.

Image

Select Fiscal Year from list, and click OK.

Image

Fill out the workform and go to File | Save or click the save icon to save the fiscal year.Name: Enter a name for your Fiscal Year

Name: Enter a name for your Fiscal Year
Start/End date: Enter the range of dates the fiscal year should encompass
Owner: The system automatically defaults the owner to be the logged in library
Note: Add any notes required
Image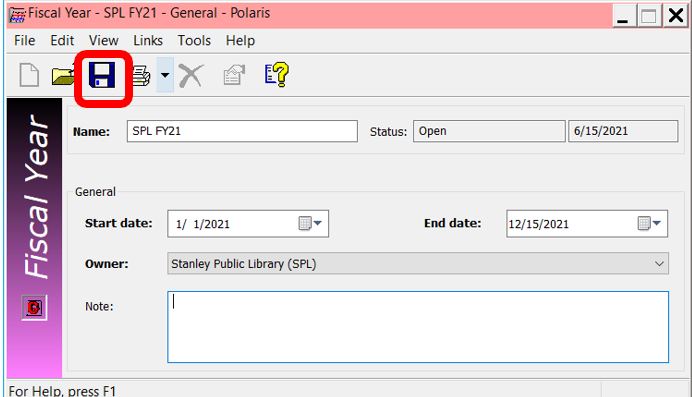 3. To retrieve Fiscal Year records, on the menu bar go to Acquisitions | Fiscal Years or click on the Fiscal Year Icon within the Acquisitions marble.
Image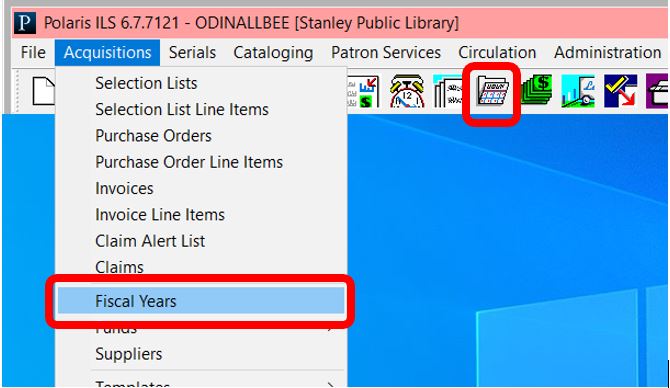 A searchbox displays that allows you to search for a fiscal year. The asterisk (*) acts as a wildcard to retrieve all fiscal years.
Image