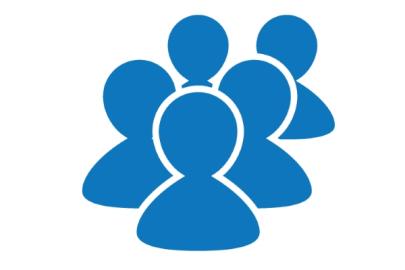 Polaris Cataloging User Group - December 17, 2020
December 17, 2020 -- PKS Cataloging Group Meeting Notes:
Agenda:
No meeting in November 2020.
New items:
Welcome to Liz – new coordinator for the Cataloging User Group! Welcome to Nicole Murphy as well, the ODIN staff is happy to have her.
EBSCOhost (Online service) keyword search – old NetLibrary records. Need cleanup? - Stacey

Back in the day libraries received NetLibrary ebooks, could only read them online. In about 2017 ODIN office emailed asking libraries whether they wanted to withdraw them. The ones remaining all say "EBSCOhost (Online service)" now. Just wanted libraries to know that the bibliographic records are still in some library's catalogs. Grand Forks Public, Dickinson Public, and the State Hospital have them now. To see what your library has you should search both "NetLibrary" and "EBSCOhost online service." You may want to go back to your library and decide if you still want them. Stacey remembers that she had to remove holdings form OCLC as well. State Library had 5352 of them. But doing a search with "count only" she saw 9,155. There may be newer ones you want to keep. Please put in a ticket with ODIN if you want help cleaning them up.
OverDrive / RBDigital merge- How are the RBDigital bibliographic records being updated in the Digital Library branch?- Lynn responded that the RBDigital records are set up in the Digital branch just like the OverDrive records. The records come in on an automatic load process. ODIN staff doesn't manually load that. We don't know if the record feed will be affected by the merge of OverDrive and RBDigital yet. OverDrive and RBDigital have different models, so we are waiting to see. The State Library is asking for new libraries to join the OverDrive consortium. Jason pointed out that the holding is updated in the catalog when there is a checkout with OverDrive, but it isn't reflected in the patron record yet. He is working with OverDrive on that side of things still. If you notice any problems or have any questions with them let us know.

What topics would you like to see covered in documentation, training seminars, or the next ODIN Work Day? Please submit to odin-pks-cat@listserv.nodak.edu or odinhelp@listserv.nodak.edu

Ginny- in January/February going to have online work day sessions. Looking for topics and people to present. A topic could be a half hour or an hour. Perhaps two in one week, for example. We are looking for people to share their knowledge. Maybe a session about Bib or Item templates, or cataloging manga. You can send in suggestions for topics to the listserv, or let Ginny know if you want to volunteer. She needs to gather the sessions and schedule them.

What's new in your library? Questions?

State Library – Stacey reported many have returned to working at home. It seems to be working out fine. Stacey has brought some physical items to work on. The State Library has been sending out emails about the RBDigital merge is happening with OverDrive. Stacey and Jessica have found three RBDigital bibliographic records in their branch, not the Digital Branch. They will be getting rid of those.
Jessica from State Library – the State Library is are doing a big book lottery Jan-March. They have weeded about four collections: large print, juvenile non-fiction, oversized, and reference. If any of you would be the person who would be getting lottery books into your libraries, or you want to inform the person who is, there is a survey in the Flickertale newsletter to let the State Library know what libraries are looking for.
Grand Forks - Lori reporting that things are going well. Lori and Bobbi are working full time. They had opened for 1 week with 30-minute appointments two days a week, then a staff member became sick, then they were closed for two weeks. Now open for appointments once again, and three days a week for curbside.
West Fargo Public - Mary Murray reported that she is cataloging and processing books. WFP is not hiring anyone new until March. It has been difficult to get caught up. Little Red School is a bus that is going to be turned into a bookmobile. There will be 2-4 thousand books to be processed. The library is allowing 10 in the library per half hour with appointments. They have some staff or their family members that had COVID as well.

Next Meeting – There will be a new link to Liz's Blackboard Room. New calendar invites will come out and they will have a new link. Plus a reminder terms are two years, and next year at this time we will need to select a new chair.
Pending/old items:
Diacritic documentation - small script l (for leaves) can be spelled out instead of using the symbol and designated as leaves. Documentation will focus on copyright symbol updates. Lists will be distributed to libraries for titles to update. UPDATE: still in progress
Record sets named "weeded000n" both bibliographic records and authority records -- automatically created? What should be done? UPDATE: unknown – Lynn to investigate contents
Image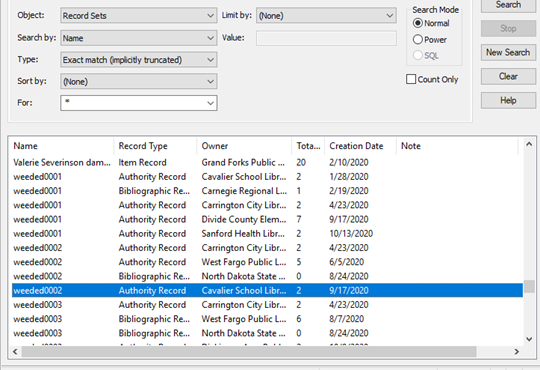 Bibs and items marked for deletion and impact on circ stats. Circ UG discussed and will need stats for annual reports (number of deleted bib/items, statistical summary).

Statistical Summary Report should show some of the stats needed.
Simply Reports can exclude the deleted records but must remember during setting up report.
Lynn received list from prior years of what was needed for Annual Reports so will work on document for procedures and see if we can delete.

Documentation to be created/posted on Cat User Group page: MARC fields to strip out of OCLC during import: 029, 263, 938. These are all vendor-specific fields that are not intended to be used by libraries or patrons. We have several options ….

#1 set up tags to delete in the default which would limit your flexibility but standardize across all libraries (assuming everyone can agree)
#2 have a recommended standard for the Import Profiles and let each library determine what is best for what they are doing. This would allow for different tags to be deleted in different profiles as needed
#3 In release 6.4, there was an option to delete all instances of a defined tag – not just the first or last during a Bib Record Bulk Change.
#4 set up profile in OCLC to strip out tags on import.
Meeting Links
Attached File(s)